July 18, 2023
Zero waste is the latest eco-friendly buzzword. But what does it mean? According to the EPA, zero waste is:
"The conservation of all resources by means of responsible production, consumption, reuse, and recovery of products, packaging, and materials without burning and with no discharges to land, water, or air that threaten the environment or human health."
There are many ways we can reduce waste at home and on the go.
In fact, here are 10 easy ways to join the zero waste movement this summer.
1. Plastic-Free July
Happy Plastic Free July! Are you ready to take on the challenge?
The main goal for Plastic Free July is to stop using single-use plastic items and to create less plastic waste in general. Here are some ways you can reduce the amount of plastic you buy:
Eliminate disposable plastic snack or sandwich bags — use silicone or cloth snack bags or reusable containers.

Switch to

laundry detergent sheets

instead of purchasing laundry detergent that comes in large plastic containers.

Ditch the straws! Use paper or reusable straws instead at home and work.

If you eat on the go a lot, think about packing reusable or

compostable cutlery

and keep it handy at all times (in your purse, console, and desk).
If you can make it through July without buying plastics, then you might be able to make a permanent change.
2. Grocery Store Habits
We all know about reusable bags, but did you know you can buy reusable produce bags? Instead of buying bagged apples or reaching for that thin plastic bag next to your favorite produce, carry cloth produce bags with you instead.
When shopping for deli meats or fresh salads, consider bringing mason jars or beeswax wrap and asking the deli workers to use your containers instead of using plastic bags.
Try shopping in bulk, especially if that item comes in one large plastic container rather than several – for instance, a 2-liter bottle of soda instead of a six-pack. Buy pantry staples like flour, sugar, pasta, and other dry goods in bulk and store them in wholesale food containers. You can also buy bulk household soaps, laundry detergent, and all-purpose cleaners.
3. Collect Rainwater
Summer heat means thunderstorms and occasional rain showers. What better way to reduce your water consumption and your monthly bill than by using a rainwater barrel?
Rain barrels can be used to water gardens while also protecting the amount of water getting into our waterways. This means if you live in an area prone to flood, you can reroute the water to the barrels and create a proper drainage system.
4. Shop Local – Farmers Markets
Who doesn't love walking through your local farmers' market?! Not only will you be supporting your local sellers, but you will also be able to find fresh fruits and vegetables that are in season, meaning they should last longer in your refrigerator.
Other tips to consider when shopping at local farmers' markets:

Bring your reusable produce bags or containers so you don't bring home any plastics.

Most markets also have compost and produce waste collection where you can bring old produce.

If you can't bring your food to compost, try to find a neighbor with backyard chickens — chickens enjoy a lot of food scraps, like berries, watermelon or cantaloupe rinds, and corn on the cob!

5. Reduce Energy/Gas Consumption
If you live close to your work, make an effort to walk, bike, or use public transportation instead of driving to reduce your gas consumption.
To help reduce energy usage, get the whole family on board around the house and make sure everyone helps out by following these tips:
Turn off lights, televisions, computers, and video game consoles when leaving the room.

Chargers for cell phones, tablets, and other devices use small amounts of energy when they are plugged in, even if nothing is charging, so make sure you unplug chargers that aren't being used.

Recycle old electronics by handing them down (if they still work) or

take them in for proper disposal

.
Your clothes dryer is one of the largest energy users in your house — it uses as much energy as a refrigerator, dishwasher, and clothes washer combined! Take your clothes outside this summer and air-dry clothing when possible, or use a drying rack indoors.
6. Switch Up Your Shower Routine
Here are some of our favorite zero waste tips to use in the bathroom:
Switch to bar soap and bar shampoo to eliminate plastic and product waste from shampoo bottles and body wash containers.

Take shorter showers to reduce your water usage.

Change out your plastic toothbrush for a bamboo toothbrush.

Opt for

plastic-free deodorants

or a

deodorant cream

.

Buy tree-free toilet paper.
7. Use Reusables
That always-out-of-stock reusable water bottle you want isn't the only one that will work! Make sure you are saying no to takeaway plastic cups and opting for reusable water bottles, coffee cups, and glass containers to bring your lunch to work. If you're getting takeout, ask them not to put it in a plastic container, say you're bringing your own, or only go to places that use compostable containers.
8. Compost
Imagine how much less garbage your family would produce if you put food scraps back into the earth. It's easier than you think and will save you from overflowing garbage bags. If you want to learn to compost at home, here are some tips:
Use a resealable bin that can keep animals out.

As you add more food waste be sure to mix and combine the food waste so it breaks down more quickly.

Feel free to add dirt, dry brown waste (leaves), and worms to promote the breakdown of the food.
If you have a garden or even houseplants, the nutrient-rich soil created from your compost will help you to grow just about anything.
And if you have clean wood waste to dispose of, instead of burning it, please consider dropping it off at our co-composting facility. We will take clean wood, including tree parts, brush, pallets, and lumber no larger than three feet by three feet, and we cannot accept any wood with stains, paints or other chemicals, like treated lumber.
Happy composting!
9. Cook at Home
If you don't enjoy cooking at home but want to start, you might want to consider delivery services that portion out the right amount of ingredients for each meal. Companies like Home Chef or Hello Fresh send you recipes and ingredients with just enough to create the meal, reducing food waste.
If you like to eat out but also like to cook, consider using leftovers from restaurants or other meals to create new meals. For instance, you can dice up leftover french fries and make quick hash browns the next day for breakfast. There are tons of recipes out there that use up ingredients in your refrigerator so they don't spoil or get tossed.
10. Find an Online Community or App
Our last tip is to encourage you NOT to throw away items like gently-used clothing, toys, or furniture. Sell or trade them instead with apps like Poshmark, thredUP, or Mercari.
There are also social media communities that bring local people together to post items like children's clothes, toys, furniture, or electronics for free local pickup, so be sure to check out your local online hubs.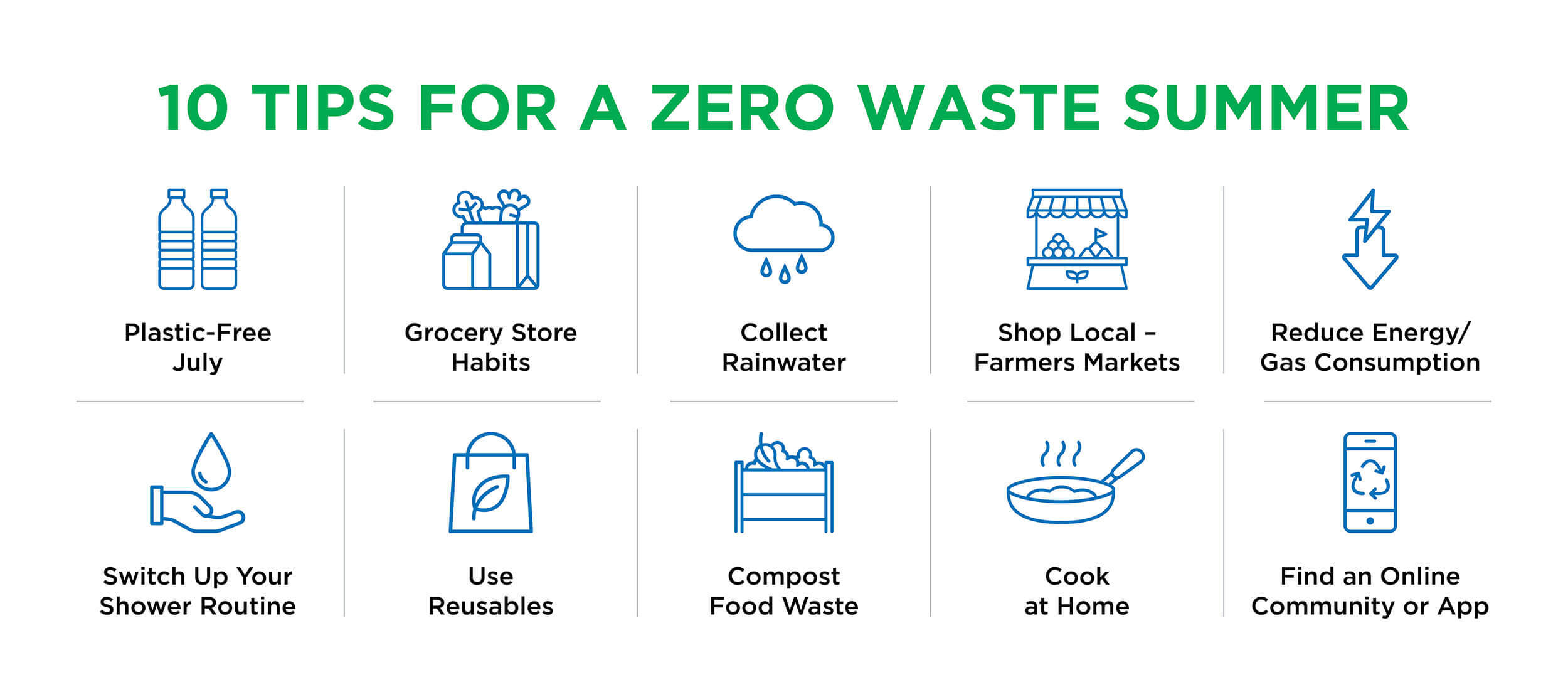 Find More Ways to Go Zero Waste
Implementing these zero waste tips can help you and your family produce less garbage, which means less waste ending up in our landfills. Try it for a week and see how much less garbage ends up in your bin. After all, what do you have to lose?
For more tips, resources, or information on where to properly dispose of batteries, electronics, or hazardous household waste, be sure to follow us and subscribe to our email list to stay up to date.